Release: Cops.S32E13.PROPER.720p.WEB.x264-TRUMP
Size: 467.40 MB
Synopsis: COPS is one of the first (and only) true and UNSCRIPTED reality shows, it follows the activities of police officers by embedding camera crews with police units.
The shows formula follows the Cinma vrit convention, with no narration or scripted dialog, depending entirely on the commentary of the officers and on the actions of the people with whom they come into contact.
COPS has followed officers in 140 different cities in the United States and also has been shot in Hong Kong, London, and the former Soviet Union. Each episode is approximately 22 minutes in length and typically consists of three segments, with each segment being one or two self-contained police incidents.
Show/Hide NFO | Download NFO | Show/Hide Screenshots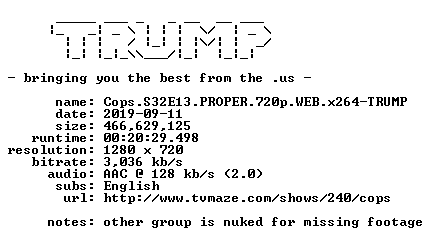 Download